Sailing Courses in English for Adults and Children on the Ammersee (Utting)
Fun, recreation and relaxation on the water .... what could be more thrilling than piloting your own sailing boat! Learn how to sail!

We welcome you to develop or refine your sailing skills, at your own pace with personalized individual attention and in small groups. Expert sailing teachers will ensure fun and safe learning in English.
Adults
Courses focus both on practical and theoretical instruction. We can provide weekend courses as well as 5 day courses for all levels.
Practical instruction will take place on "Helios" keelboats in small groups of no more than 5 people. The "Helios" is very stable (cannot capsize) and spacious.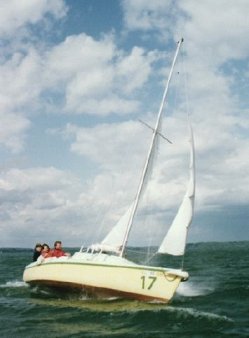 The course is designed to provide learning of the fundamentals of sailing and to develop practical skills and experience required to sail and crew a keelboat. Learn the fundamentals of keelboat sailing, shipboard terminology, points-of-sail, rules of the road, and safety procedures including crew-overboard drills, knot tying and use and much more.
At the end of this course you will benefit from a feeling of enjoyment: Being in command of a sailboat and manouvering into the open lake on a sunny day, the freedom and independence of being on your own on the lake.
Ernst sailing school,
accredited by the German sailing federation ( DSV )
, is situated in Utting, on the beautiful Ammersee, 30 miles southeast of Munich easy to reach by car, bus or rail.
Courses usually start at 9.30 am to 5.30 pm with 1.50 hrs for lunch. We can agree additional dates that suit your needs.
Our sailing school provides third party liability insurance for every participant. We provide all safety equipment.
Participants need to be healthy and able to swim for at least 15 min.
At the end of the week participants will receive a certificate of participation. The course will enable you to rent and sail a boat in Bavaria (no additional sailing permission required).
The minimum amount of course participants is four.
We reserve the right, up to 2 weeks prior to the start of the course, to cancel the course should the amount of participants be less then four.
For further information please contact us via email:
or cellular phone: +49 (0) 170 - 2 45 38 41.